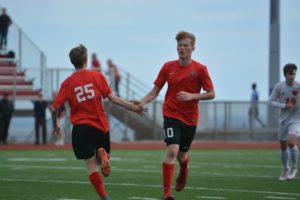 BOYS SOCCER – TRYOUT INFORMATION 2023
CAPTAINS PRACTICES 2023 –
Monday, August 7th – Thursday, August 10th @ Ordean East Middle School
9:00 – 10:30 am – Grades: 7th-9th
10:30 – 12:00 pm – Grades: 10th-12th
PRE-TRYOUT INFORMATION 2023 –
ALL PLAYERS MUST COMPLETE BOTH THE PRE-TRYOUT REGISTRATION FORM AND PLAYER EVALUATION FORM PRIOR TO TRYOUTS
The pre-tryout registration form must be submitted online by Friday, August 11th, 2023 and the player evaluation form must be handed in to Head Coach Corey Bachand by the first day of tryouts on Monday, August 14th, 2023.
TRYOUTS –
Pinnies WILL be used at the boys tryouts. Each player will be assigned a pinnie for their tryout, the pinnies will be collected and washed after each day. Players DO NOT need to bring a shirt with a number on it.
Sophomores MUST have a current physical on file dated after June 1st
Grades 7th-9th must have current physical on file in the Activities Office
No Physical = No Play (including tryouts)
All participants must reside in the Duluth East attendance district
All exchange or transfer students must be cleared by the MSHSL and the East Activities office prior to any participation! Stop in the Activities office for more information!
The fee must be paid in full prior to first contest – no fee = no participation!
Please bring: ball, shin guards and socks, cleats and water bottle.
Please arrive 30 minutes early to warm-up and dress appropriately for the weather.
TRYOUT DATES 2023 – 
Monday, August 14th & Tuesday, August 15th @ Duluth East Stadium
Monday: 1:00 – 2:30 pm – Grades: 7th-9th
Monday: 2:30 – 4:00 pm – Grades: 10th-12th
Monday: 6:00 – 7:30 pm – Grades: 7th-9th
Monday: 7:30 – 9:00 pm – Grades: 10th-12th
Tuesday: 1:00 – 2:30 pm – Grades: 7th-9th
Tuesday: 2:30 – 4:00 pm – Grades 10th-12th
Tuesday: 6:00 – 7:30 pm – Grades 7th-9th
Tuesday: 7:30 – 9:00 pm – Grades: 10th-12th