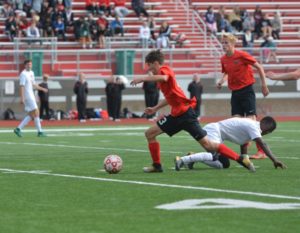 Duluth East Boys Soccer
COVID-19 Information/Schedules/Volunteering/Apparel 
COVID-19 Information
Parents and players, please take the time to read the following documents providing information, guidance and protocols to be followed for the 2020-21 season. More information can be found on the MSHSL, MDH and CDC websites.
MSHSL Fall Approved Sports: MSHSL – SOCCER GUIDANCE 2020
MDH 2020-21 Planning Guide for Schools: K12 PLAN GUIDE
MDH COVID-19 Sports Guidance for Youth & Adults: SPORTS GUIDE
Schedule 2020
TeamSnap Name: Duluth East Boys Soccer
Boys Top 45: MASTER SCHEDULE 2020
Boys Top 45: GAME SCHEDULE 2020
Please Note
The practice and game schedules are projected schedules for the Top 45, which are subject to change based on the most current COVID-19 information, directives from the state government and health department officials, weather, and facility availability.
Cancellations
Please note this is when we have reserved time, but the head coach may cancel a practice or practices due to conflicts, to give the players rest, or to adhere to any COVID-19 protocols that must be followed. Communication will come from the head coach.
Interested in Volunteering?
For volunteer availability and information please inquire with the booster club members. 
Order Apparel Online
The following link can be used to order your Duluth East Boys Soccer Apparel through Duluth Hockey Company. Players and parents can use same link. If you are placing an order, all fields within the form are required in order to make sure no options are missed, so please make sure to put any unwanted items to 0 (zero) in order to submit the form. If you have any questions or problems, please email Emma Stauber at stauber0265@gmail.com. The link will be live Friday, August 20th at 8:00 am and will close on Wednesday, August 26th at 11:59 pm.

TOP 45