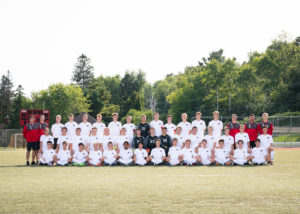 Teams
Boys Soccer – Roster Information
Top 40           (Varsity & JV)
Bottom 40      (B & C Club)
2019 Boys Roster» 2019 Duluth East Boys Soccer Rosters
Thank you to all players who tried out this year. If you did not make a team, please see the area below regarding additional options for you. For those who made a team, please check the schedule page for the practice schedule and gear ordering information.
Greyhound Nation (Mandatory) 
For those who were selected to a team, there will be a mandatory meeting, Thursday, August 15th at 6:00 pm at Duluth East. This will be to go over all yearly expectations, procedures and fundraising – please bring your checkbook.
Team Handbook
For team explanations, individual grade level expectations, team rules and the tryout/team selection process please refer to the handbook:
Duluth East Boys Soccer Handbook 2019
Forms
Top 40 Only: East Online Athletic Registration
If You Were Not Selected for a Team
Check back soon for information if you were not selected for a team.