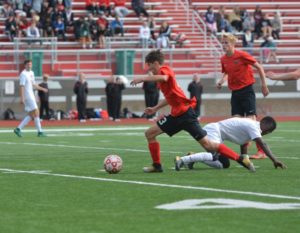 Duluth East Boys Soccer
Schedules/Volunteering/Apparel 
Schedules 2019
TeamSnap Name: Duluth East Boys Soccer
Boys Master Schedule: Duluth East Boys Soccer Master Schedule 2019
Boys Top 40 Practice/Game Schedule Only: Duluth East Boys Soccer Top 40 Schedule 2019
Boys B & C Club Practice/Game Schedule Only: Duluth East Boys Soccer B & C Schedule 2019
Please Note
These are the projected schedules, which are subject to change due to weather, school events, or field availability. B and C Club team schedules are projected based on the assumption that our opponents can field B and C level teams. If an opponent cannot field one of the levels after their tryouts due to low numbers, we will be flexible to adjust our schedule accordingly in order to add more games. 
Cancellations
Please note this is when we have reserved time, coaches may cancel some practices due to conflicts or to give the kids a day off. Communication on this will come from the team coach.
Interested in Volunteering?
For volunteer availability and information please inquire with the main contact what is available. Parents – You must sign up for 3-4 total shifts in any of the following categories.
Concession Stands  |  Team Dinners  |  Jobs  |  Press Box & Field Help  (check back soon for volunteer postings!)
Order Apparel Online
Here are the links to ordering your Duluth East Boys Soccer Apparel. Players, please use the link associated with your team. Parents and fans, please use the parent link. If you are placing an order, all fields within the form are required, so please make sure to put any unwanted items to 0 (zero) in order to submit the form. If you have any questions, please call Emma Stauber at 218.428.5837 or email at stauber0265@gmail.com. The links will close on Monday, August 19th at 11:59 pm.

Varsity/JV (Top 40)
Link: https://duluthhockeycompany-tkxfj.formstack.com/forms/dulutheastsoccer2019top40
Password: eastsoccer2019
B/C Team
Link: https://duluthhockeycompany-tkxfj.formstack.com/forms/dulutheastsoccer2019bc
Password: eastsoccer2019
Parents
Link: https://duluthhockeycompany-tkxfj.formstack.com/forms/dulutheastsoccer2019parents
Password: eastsoccer2019